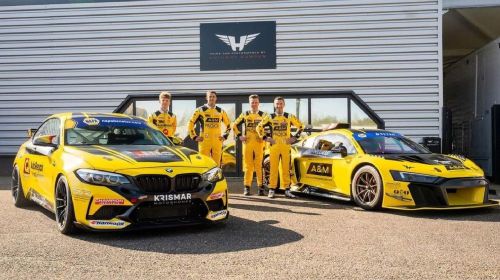 Q-Mobility group is A PROUD SPONSOR OF MATISSE LISMONT

The Q-Mobility Group is proud sponsor of Matisse Lismont who is competing in the Funcup and Belcar this season.
Matisse Lismont is a young talent with big ambitions. Ever since he was a young boy, he has been racing on karting and cross-country circuits at home and abroad.
At the time, it was still at amateur level, but the passion was born. He was also active in motocross and he had his first experience on the racing circuit in 2022 during the Beetle Fun Cup.
His first experience was immediately good for third place. His biggest dream is to compete in the 24 hours of Le Mans
This season he is driving a Volkswagen Beetle with the Q-Mobility logo on the front in the Fun Cup. He will be driving as a part of the Clubsport Racing team.
He had his first successful race of the season in Mettet where he just missed out on a podium place and finished fourth with his team.
It will certainly not be a quiet season, because in addition to the Fun Cup, Matisse will also join the A&M Racing team in the Belcar series. Here he will drive a BMW M2 CS. He will compete in the Belcar Tourincar series for PK Sport together with his teammate Junior Planckaert. Junior is the perfect complement for Matisse as they both have tons of experience in different types of races.
During these races, Matisse will not only be able to count on his teammate Junior Planckaert, but also on the fantastic guidance of Bert Longin and Anthony Kumpen.
Both are well-known professionals and have some nice victories to their name. For example, Bert is record holder for the 24 hours of Zolder and world champion in the Solar Challenge.
Anthony is also no stranger to racing, having won titles in the NASCAR Whelen Euro Series and FIA GT Championship.
Together they have driven the Belcar Series several times, making them the ideal coaches for Matisse and Junior.
We are ready to cheer them on!
See below in the overview the full calendar for 2023:
25-26/03 - Funcup: Kronos 8U of Mettet - Mettet
29-30/04 - Funcup: Benelux Open Races - Zandvoort
13-14/05 - Belcar Series: New Race Festival - Circuit Zolder
19-21/05 - Funcup: Franco Fun Festival - Spa-Francorchamps
02-03/06 - Belcar Series: Spa Euro Race - Spa-Francorchamps
17-18/06 - Funcup: Trophée de Volcans - Charade
13-16/07 - Funcup: Hankook 25H Funcup
24-27/08 - Belcar Series: 24 Hours of Zolder - Circuit Zolder
15-16/09 - Funcup: Kronos 12U of Alsace - L'Anneau du Rhin
23-24/09 - Belcar Series: Nascar Euro Series - Oschersleben
06-08/10 - Funcup: Zolder Fun Festival - Zolder
14-15/10: Belcar Series: American Festival - Circuit Zolder

Left: Matisse in his Belcar Series outfit in front of the M2 CS - Middle: The Beetle with the Q-Mobility Group logo during the race at Mettet - Right: The M2 CS with the Q-Mobility Group logo on the side.